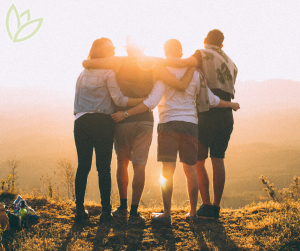 Every day you likely hear news reports or buzz from your sphere of influence on ways to promote your business. But just how effective are such networking strategies?
Actually, they each have a place in your business development plan and can definitely add something to your marketing arsenal. Even so, nothing trumps a good old-fashioned handshake. By far the best way to grow any business is through word of mouth and to do that you need to attend networking events and make those meet-and-greets a priority.
Think about this: Having 10 people who are in love with your business can juice your marketing efforts in ways you may never have imagined.
What if just 10 friends (with a helpful nudge from you) tip off their connections to what you are doing with your business? Social media packs a punch when sage wording and compelling imagery draw more eyes to your business. Why? It's so easy for those social friends to share tidbits about your latest endeavors with their friends.
If you're seeking more connections to fill in those gaps in your calendar, here are nine strategies that have worked for other business owners.
Networking groups: Make it a habit to attend these get-togethers on a regular schedule — either weekly, monthly or quarterly.
Networking events: Chambers of Commerce often host these as well as other business gatherings. In this case, everyone knows the purpose is to make connections and network, so hand out those business cards!
The gym: If you are a regular fitness buff, chances are you see the same people each time you work out. Be friendly and strike up a conversation.
The coffee shop: With more and more small business owners opting to not have a physical office space and choosing to work virtually the local coffee shop becomes an office away from home.
Volunteering: Networking shouldn't be your main goal as a volunteer, but you will be meeting people with like interests. Share your passion!
Alumni events: School ties are a time-tested avenue for networking and there's the expectation that alumni will help one another. Many schools have developed online networks in addition to holding local and national events.
Online meeting sites: These portals often include face-to-face meeting times.
Classes, seminars, or workshops: Whether for career development or to pursue a personal passion, classes offer the opportunity to meet people who share your interests.
Hobbies: There's something to be said for bonding over leisure activities, whether that's a card game, golf outing or runners club. Join an existing group, or start your own.
Close your browser and get out there and start growing your "word of mouth" network!